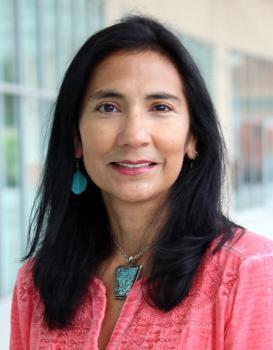 Dolores Delgado Bernal, who earned her Ph.D. from UCLA as a first-generation college student, investigates educational (in)equity, Latinx educational pathways, feminista pedagogies, and different forms of resistance.
Her co-authored and co-edited books include: Transforming Educational Pathways for Chicana/o Students: A Critical Race Feminista Praxis (2017), Chicana/Latina Testimonios as Pedagogical, Methodological and Activist Approaches to Social Justice (2015), and Chicana/Latina Education in Everyday Life: Feminista Perspectives on Pedagogy and Epistemology (2006). 
Delgado Bernal's awards include the Distinguished Scholar Award from the American Educational Research Association; the Tortuga Outstanding Scholar Award from Mujeres Activas en Letras y Cambio Social, and the Derrick Bell Legacy Award from Critical Race Studies in Education Association.
"Few Chicanx scholars are unfamiliar with the work of Dolores Delgado Bernal. Her work has validated the unique viewpoints of many Chicanx scholars, who now routinely examine the intersection of gender, class, and ethnicity," said Anna Ochoa O'Leary, head of the UA Department of Mexican American Studies.
Ochoa O'Leary said that in the mid-to-late 1990s, Delgado Bernal's work provided trail-blazing pathways to unlocking how working-class families in neighborhoods and barrios in California mobilized entire communities to advance the education of Chicanx and language minority students.
"Her work set into motion the development of new generations of scholars who became empowered—and empowered others," Ochoa O'Leary said.
"I want to thank the Mexican American Studies Department at the University of Arizona and the community organization, Fundación México, for the honor of being selected for the Saber es Poder Award and for initiating an award that recognizes contributions in the areas of community engagement and the promotion of social justice," Delgado Bernal said. "These are contributions that should be at the core of higher education institutions. With much work ahead of us, I humbly receive the award in the name of all the colegas, students, familias, and community activists I have worked with and learned from over the last 30 years."