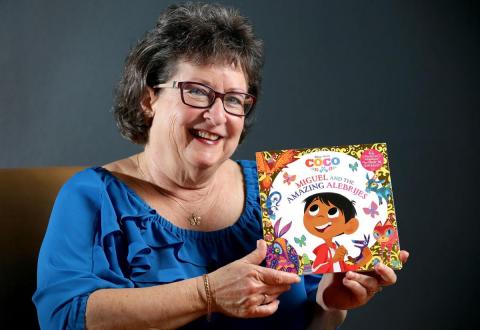 Roni Capin Rivera-Ashford a Nogales native, granddaughter of two pioneer entrepreneurial Jewish families, Capin and Bracker. To Nogales natives, The names Capin and Bracker conjure up images of border business and retail economies that helped meld cultures, languages and communities. Roni and her husband, Danny, were high school sweethearts in the late 1960's. They both attended ASU and became bilingual educators with undergraduate degrees from Colorado State University-Pueblo where Roni "With Distinction".  In 1974, when Roni was 21 yrs. of age, they returned to Nogales to work in the bilingual ESAA Title VII program, directed by Dr. Guadalupe Romero and locally by Ramón Paz. Roni worked as a bilingual elementary teacher in Nogales and Tucson for 30 years. Other jobs she held while raising their 3 children were: being a CDA Advisor for Head Start, a Supervisor for Student Teachers in Nogales from Indiana University, Director of her own pre-school for 3 yrs. Her last 10 years in TUSD she worked as the Title I  and Welcome Center translator and interpreter for Spanish-speaking parents' official notices and programs plus was the Spanish-speaking liaison from TUSD on the weekly radio show La Hora del Café de Claudio Jiménez y Fernández, to help keep Spanish-speaking parents informed of important educational issues regarding their children's education.     
For more than 30 years, Roni recognized the necessity for more bilingual children's books that were culturally relevant, especially when she was teaching reading to 1st and 2nd graders in their home language. This begged the question, "why not write them herself? So she did. She wrote My Nana's Remedies/Los remedios de mi nana in Spanish first and then translated it into English. Her students loved it and flourished in their reading. A few years later, while working as a translator, she embarked on a new goal of having her story published resulting in the publication of her first book, Nana's Remedies by the Arizona-Sonora Desert Museum Press in 2002. This was followed by Hip, Hip, Hooray, It's Monsoon Day! /Ajúa, ya llegó el chubasco, in 2007.  Both of these books were culturally relevant bilingual children's books. The Monsoon book was named as the ONE BOOK ARIZONA in 2009; and in that same year, Roni was honored with the Judy Goddard Award for the nature of her writing and her award-winning books. Her 3rd bilingual, non-fiction book My Tata's Remedies/Los remedios de mi tata, was published by Cinco Puntos Press of El Paso, TX in 2015. Selected as the 2016 Great Read for Arizona, this book represented the state of AZ at the U.S. Library of Congress National Book Festival and was the only book to be bilingual. Other awards for this book followed including the prestigious national Pura Belpré award, the International Latino Book Awards as Best Children's Non-Fiction Picture Book, the Best Educational Children's Picture Book, and a Notable Children's Book of 2016 by the Association for Library Services to Children. These bilingual, bicultural books have not only highlighted Mexican culture in respectful and sensitive ways, they are also stories that touch the hearts of adults as well as children, beyond the Southwest, with universal messages of family, traditions, culture, love and healing.
Even those of us not involved in education, have recently come to know more about Roni's work when she was contracted by Disney-Pixar to write a companion books for the Academy Award-Winning movie "Coco". One of these books, Miguel and the Amazing Alebrijes – she co-wrote with her son, Aaron Rivera-Ashford. This last book has already won awards for children's Latino literature, at the Edward James Olmos International Latino Book Awards.