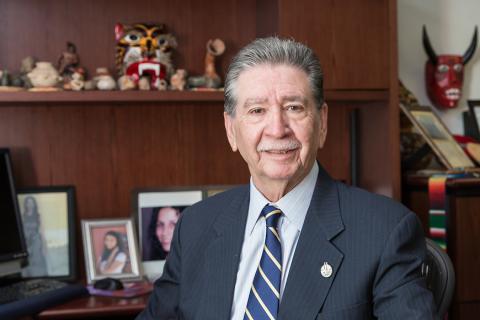 Regents' Professor Carlos Velez-Ibanez is in the School of Transborder Studies and School of  Human Evolution and Social Change,  the Presidential Motorola Professor of Neighborhood Revitalization, and the Founding Director Emeritus of the School of Transborder Studies at Arizona State University. His academic fields include applied anthropology, complex social organizations, culture and education, ethno-class relations in complex social systems, migration and adaptation of human populations, political ecology, qualitative methodology and urban anthropology.
Professor Velez-Ibanez concentrates his work on the Transborder regions of the Southwestern U.S. and Mexico. He has numerous publications, including 75 articles and chapters, 12 books in English and Spanish, four monographs of which are based on original field research and three more translated into Spanish, and grants from National Science Foundation, National Endowment for the Humanities and private foundations.  
He was appointed to ASU in 2005. He is an Emeritus Professor of Anthropology of the University of California-Riverside, where his prior appointments included: dean of the College of Humanities, Arts, and Social Sciences (1994-1999) and professor in the Department of Anthropology, University of California-Riverside (1994-2005). He was a professor in the Department of Anthropology with the University of Arizona (1984-1994) and founding director of the Bureau of Applied Research in Anthropology, Department of Anthropology, University of Arizona (1982-1994). Prior to these appointments, he was a tenured associate professor at the University of California-Los Angeles. 
His numerous honors most recently include his induction as a Fellow of Royal Anthropological Institute of Great Britain and Ireland and nomination to the American Academy of Arts and Sciences in 2017. He was inducted as a Miembro Correspondiente de la Academia Mexicana de Ciencias (2016) - the only  American anthropologist so selected, and he was also named the 2016 Rocky Mountain NACCS Scholar.  In 2018, he was awarded the Saber es Poder Prize by the Instituto de Mexicanos en el Exterior and the Mexican American Studies Department of the University of Arizona.  Previously he was awarded the Brownislaw Malinowski Medal in 1994, elected as a Fellow of the American Association for the Advancement of Science in 1994, Fellow of the Center for Advanced Studies at Stanford in 1994, and in 1994 the Robert B. Textor and Family Prize for Excellence in Anticipatory Anthropology.